Installing your License
Index of All Documentation » Wing Pro Reference Manual » Introduction »
Wing Pro requires a time-limited trial or permanent license in order to run, and the license needs to be activated on each machine (see the Licenses section for general information). When Wing Pro is first started, you can obtain a trial licence, purchase a permanent license, install & activate a permanent license, or use Wing for up to 10 minutes without any license: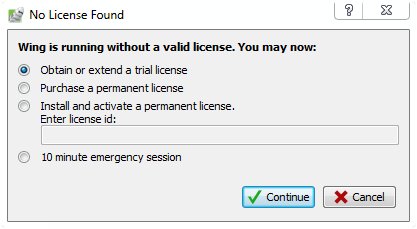 Trial Licenses
Trial licenses allow evaluation of Wing Pro for 10 days, with an option to extend the evaluation twice for up to 30 days total (or more on request). The most convenient way to obtain a trial license is to ask Wing Pro to connect directly to wingware.com (via http, TCP/IP port 80). After the trial license is obtained, Wing will not attempt to connect to wingware.com (or any other site) unless you submit feedback or a bug report through the Help menu.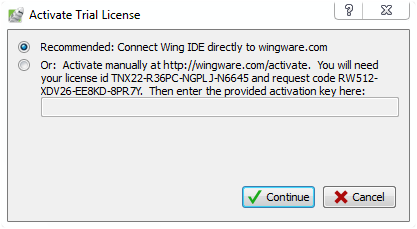 If you're unable or unwilling to connect Wing Pro directly to wingware.com, you can go to http://wingware.com/activate and enter the license id and activation request number obtained from Wing. After entering this information, you will be given an activation key which you can enter into Wing's dialog box to complete the activation. This is exactly the same exchange of information that occurs when Wing Pro connects directly to wingware.com to obtain a trial license.
If activation fails, Wing will provide a way to configure an http proxy. Wing tries to detect and use proxies by default but in some cases they will need to be manually configured. Please ask your network administrator if you do not know what proxy settings to use. See also how to determine proxy settings.
If you run into problems or need additional evaluation time, please email us at sales at wingware.com.
Permanent Licenses
Permanent licenses and upgrades may be purchased in the online store at http://wingware.com/store. Permanent licenses include free upgrades through the 6.* version series. Wing Pro licenses also allow access to the product source code via http://wingware.com/downloads/wing-pro (requires signed non-disclosure agreement).
Activating on Shared Drives
When Wing is installed on a shared drive (for example a USB keydrive, or on a file server), the User Settings Directory where the license activation is stored may be accessed from several different computers.
In this case, Wing must be activated once on each computer. The resulting extra activations will be stored as license.act1, license.act2, and so forth, and Wing will automatically select the appropriate activation depending on where it is running.
To make it easier to reactivate in a case where Wing is on a shared drive, you can store your license code in the file resources/vendor in your Wing installation, in the following form:

license="XXXXX-XXXXX-XXXXX-XXXXX"

This file should go into the existing resources directory in the top level of your Wing installation (or on OS X, within Content/Resources/resources inside the application bundle). You will need to create the file if it does not exist.
If there is no existing valid activation for the current host, Wing will try to read this file at startup and try to automatically activate the license, prompting you only if the activation fails. If many activations are expected, you will need to contact Wingware to obtain additional activations for your license.
Obtaining Additional Activations
If you run out of activations, you can use the self-serve license manager or email us at sales at wingware.com to obtain additional activations on any legitimately purchased license.
Deactivating a License
If you wish to deactivate and remove your license number from a machine, click License in Wing's About dialog box and then Deactivate. This will remove the license activation and quit Wing.
Note that this just removes your license number from the machine. If you are out of activations you will still need to follow the instructions in Obtaining Additional Activations above.