Wingware Early Access Program
Wing 9 is now available as an early access release.
You can participate in this program simply by downloading and using the early releases of Wing. We ask only that you keep your feedback and bug reports private by submitting them through Wing's Help menu or by emailing support@wingware.com.
Wing 9.0.0.1: September 21, 2022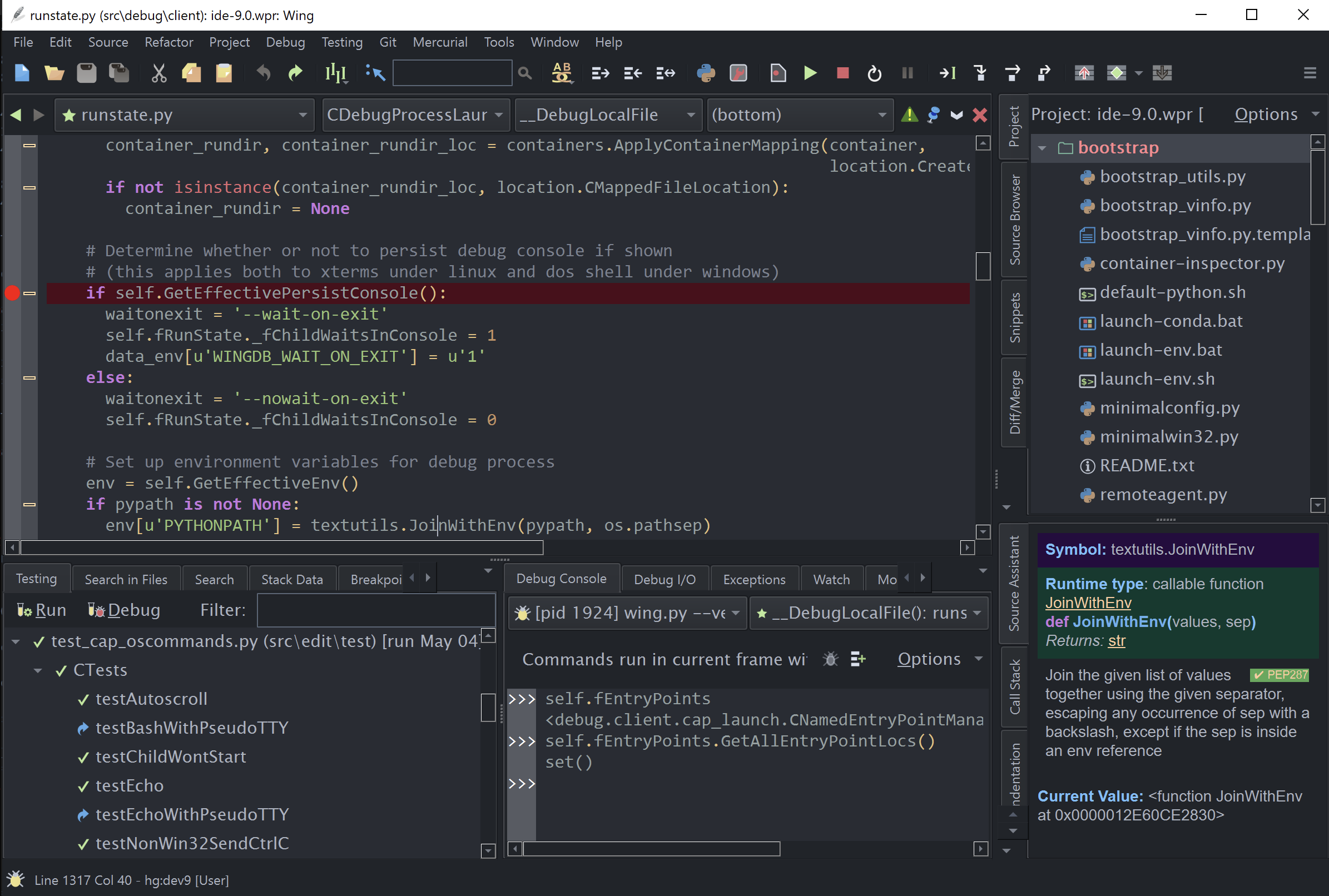 The initial releases of Wing 9 focus on optimizing the debugger, adding support for Python 3.11, and updating many of Wing's internal components. Additional improvements include smoother switching between light and dark themes, two new light style themes, some improvements in Search in Files, and a number of bug fixes.
See the change log for details.
Downloads
This is a beta release, so you should expect to encounter some issues. Please try it and email us if you find problems or have suggestions!
Wing 9 can install side by side with Wing 8 and earlier versions. Project files are converted when opened and should be saved under a new name, since Wing 9 projects cannot be opened by older versions of Wing.
New in Wing 9
Debugger Optimizations
Wing 9 reduces debugger overhead by about 20-50% in Python 3.7+. The exact amount of performance improvement you will see depends on the nature of the code being run and the Python version being used.
Preliminary Support for Python 3.11
Wing 9 adds support for Python 3.11, the next major release of Python, so you can take advantage of Python 3.11's substantially improved performance and new features.
Streamlined Light and Dark Theming
Wing 9 allows configuring a light and dark theme independently (on the first Preferences page) in order to make it easier to switch between light and dark modes. Two new light themes New Light and Fairie Storm have been added, and switching display modes should be faster and smoother visually.
Other Improvements
Show auto-invocation arguments for methods of super()

Fix a number of issues affecting multi-threaded debugging

Fix several code analysis issues

Improve keyboard navigation of Search in Files results
See the change log for details.
Details
Changes and Incompatibilities
Wing 9 makes a few changes that affect compatibility with some systems or alter the behavior of some features:
Wing now runs as a 64-bit application on Windows. Running Wing on 32-bit Windows is no longer supported, although Wing can still work with either 32-bit or 64-bit Python.

Wing now requires macOS version 10.15+

Auto-completing with the space key now always also enters a space character

A number of internal components were updated: Python, Qt, PyQt, Scintilla
If you have questions about any of this, please don't hesitate to contact us at support@wingware.com.