Home » Support » Index of All Documentation » Introduction for New Users » Wing IDE Tutorial » Tutorial: Debugging »
Before moving on to the rest of the IDE's features, here are a few highlights of the debugger's other capabilities that are worth knowing about from the start:
Main Debug File -- You can specify one file in your project as the main entry point for debugging. When this is set, debugging will always start there unless you use the

Debug

Current

File

item in the

Debug

menu. To set a main debug file use

Set

Current

as

Main

Debug

File

in the

Debug

menu, right click on the

Project

tool and select

Set

as

Main

Debug

File

, or use the

Main

Debug

File

property in the

Debug

tab of Project Properties. Whether or not you set a main debug file depends on the nature of your project.
File Properties -- Each file in your project can override or modify your project-wide debug properties. This is useful in projects with multiple debug entry points. File properties can also be used to specify command line arguments for debugging. They are accessed from the

Current

File

Properties

item in the

Source

menu or by using

Properties

in the editor or project (right-click) context menus: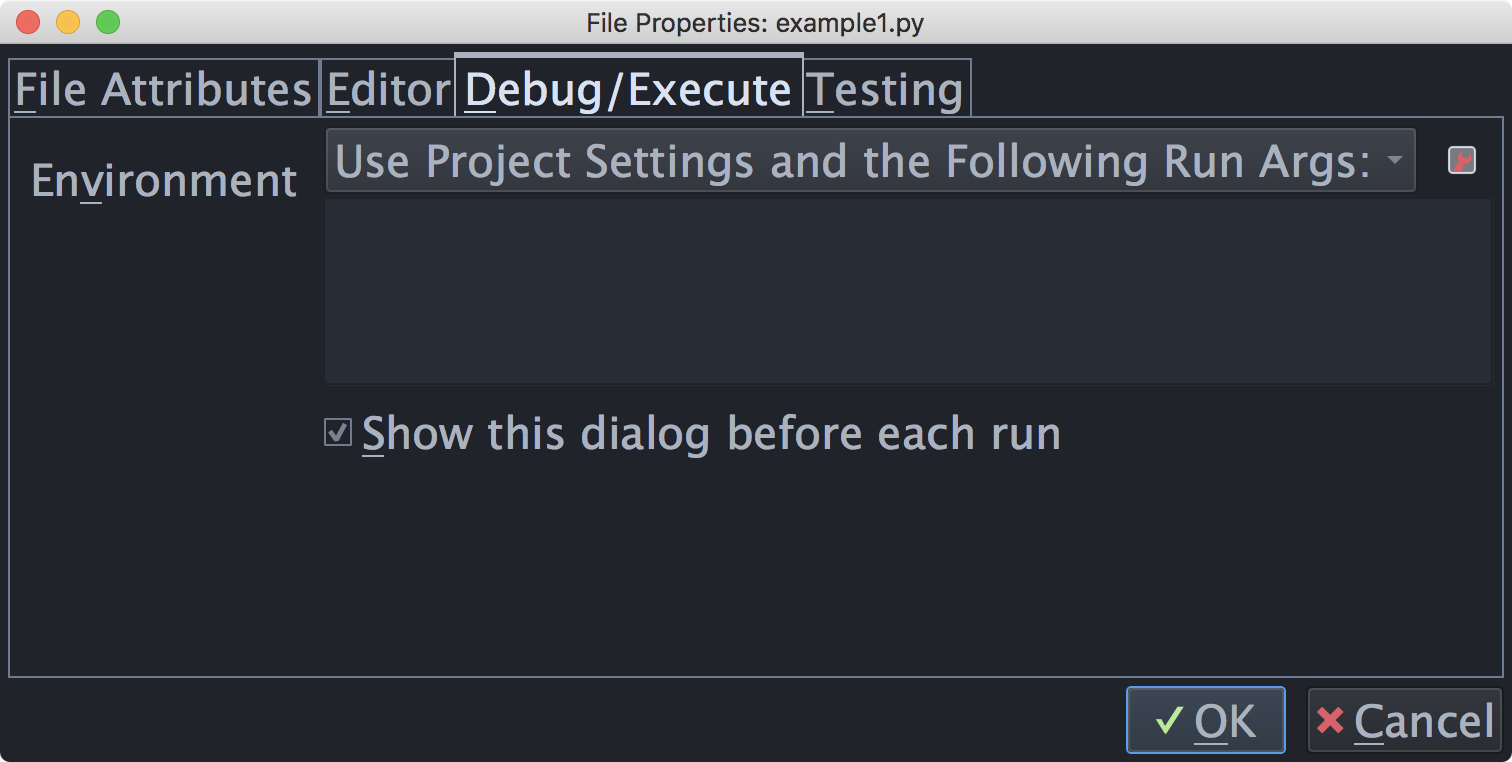 Modules Data View -- By default, Wing filters out modules and some other data types from the values shown in the Stack Data tool. In some cases, it is useful to view values stored in modules. This can be done with the Modules tool, which is simply a list of all modules found in

sys.modules

:

Conditional Breakpoints -- Use the

Debug

menu's

Breakpoint

Options

group or right click on the breakpoints margin to set a conditional breakpoint. These can be very useful if you need to stop in code before an error occurs, so that you can step through the code that leads up to the error. Conditionals can be any Python expression, but beware of expressions that alter your program state as a side-effect. Note that Wing will always stop on a conditional breakpoint when an exception is raised by the conditional expression itself.
Breakpoint Manager -- The

Breakpoints

tool accessed from the

Tools

menu shows a list of all defined breakpoints and allows enabling/disabling, editing the breakpoint conditional, setting an ignore count, and inspecting the number of times a breakpoint has been reached when a debug process is active.
Remote Debugging -- Wing can debug processes that are running under a web server or web development framework, or that get launched from the command line and not from Wing. This is beyond the scope of this tutorial, and is described in Debugging Externally Launched Code and in the the relevant How-To guides.