Wingware Blog
Introduction
Wing Pro 6 adds the ability to connect to a remote host through a secure SSH tunnel in order to work with files stored remotely in the same way that Wing supports working with files on your local system. Editing, debugging, testing, searching, version control, Python Shell, OS Commands, and other features all work with remote systems.
Currently, Wing can work remotely to OS X and Intel or ARM Linux systems. This includes any PEP 513 compatible Intel Linux system and ARM systems like Raspberry Pi and Jolla phone. We are still expanding the range of remote systems that we support. For a detailed list of the remote host types supported in the current release, please see Supported Platforms. If you try a device and cannot get it working, please don't hesitate to email support at wingware dot com for help.
---
---
Wing IDE is an integrated development environment that can be used to develop and debug Python code running on the Raspberry Pi. Wing provides auto-completion, call tips, a powerful debugger, and many other features that help you write, navigate, and understand Python code.
---
Wing IDE Pro has long had the ability to jump to the point of definition of a symbol in source code (press F4 or right-click to select Goto Definition). This works whether or not the symbol is defined in the same file or in an imported module or package.
Similarly, the Find Symbol dialog in the Source menu jumps to symbols anywhere in the current file when you type a fragment that matches its name.
Wing IDE Pro 5.1 takes this a step further by adding a Find Symbol in Project dialog that works the same way but searches all files in the project for matching symbols: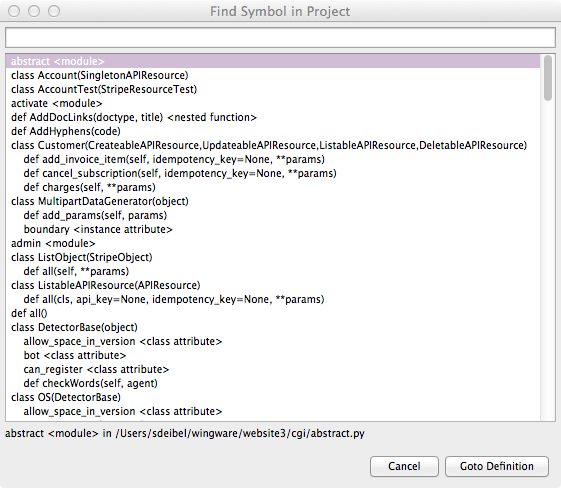 When you type a fragment, it can apply anywhere within the symbol name. Multiple fragments separated by spaces can be used to narrow down context as well as symbol name, for example matching class name and then method name: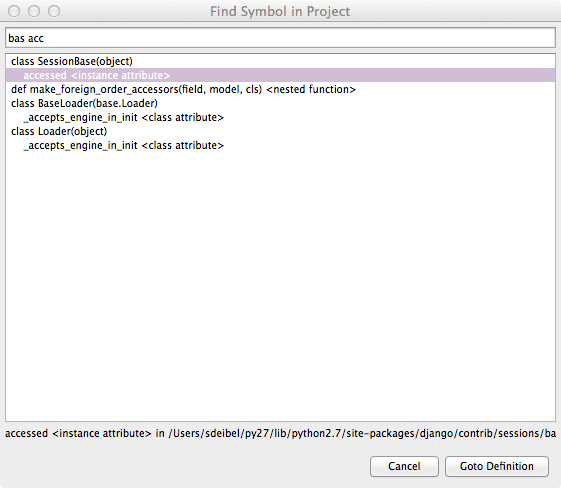 Find Symbol in Project is very fast, and it is a great way to quickly navigate through hundreds of thousands of lines of code. It is listed in the Source menu, along with the key binding that can be used to display it (Ctrl-Shift-T in most keyboard personalities). If you want to define your own key binding, the command name is find-symbol-in-project.
Share this article:
---
Wing IDE Pro's debugger makes it easier to work interactively with Python. In addition to debugging, it is also a great way to navigate and understand unfamiliar code, and to write new code interactively in the live runtime state for which it is being designed.
---
Older Articles
2015
Wing IDE 5.1 adds multi-process debugging and automatic child process debugging.
Read more
Learn how to move the program counter while debugging Python code in Wing IDE Pro.
Read more
2014
Wing IDE 5.0.9 adds the ability to set an active range of code in the editor. This makes it easier to reevaluate edited sections of code in the Python Shell or Debug Probe.
Read more
This new screencast takes you on a tour of some of the features in Wing IDE Professional version 5.
Read more
How to get the most out of Wing IDE Pro's auto-completer and source assistant for Python.
Read more
Learn how to use Wing IDE Pro's advanced auto-editing features to speed up writing and modifying Python code.
Read more